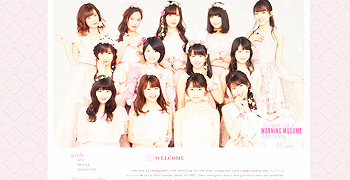 Morning Musume:
– Design: Version 5 Renai Revolution features a rotating header to celebrate the 20th anniversary of the cute J-pop group, Morning Musume ♥ I wanted to showcase all the amazing ladies throughout the group's history, and I chose five iconic lineups to define this group ♪
– Content: Updated the discography.
Ichigo.nu:
– Network: Move in the Guestbook, Contact and Exit page.
– Also move in my baby, Strawberry Fantasy: a Yuugiou Shrine ♥
Hatsukoi.org:
Start the painful task of removing all links to Cradle-Robber.net on all fanlistings. Currently, 23/37 fanlistings have been updated.
KareKano: Arima & Miyazawa:
– Content: Recode the entire site.
– Content: Pretty new code page.
– Coding: Updated the stylesheet.
Morning Musume:
– Content: Update the site to reflect Risa's upcoming graduation.
– Discography: Added information on recent releases.
Morning Musume:
– Profiles: Added the eight new members from the 9th and 10th generation.
– Also updated the profiles for Risa, Sayumi, Reina, and Aika with information taken from the official website.
Morning Musume:
– Updated the site to reflect Takahashi Ai's recent graduation T_T, as well as the addition of the four new 10th generation members.
– Updated the discography with recent releases.
– Reorganized the favorite field dropdown on the join form.
Affiliation:
– Continue to add new affiliates at many anime fanlistings.
– Affiliate check at 13 TFL fanlistings.
Morning Musume:
– Switched affiliates over to another script.
– Affiliate check.