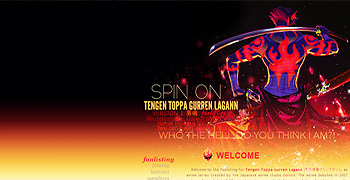 Tengen Toppa Gurren Lagann:
I am happy to present the fanlisting for one of the most inspirational and truly unforgettable series, about a boy who gains the confidence and strength to take on the universe ★
- Design: The layout is blazing with the intensity of the most badass character that ever lived, Kamina ♥
- Buttons: Made 188 buttons.
Kamina & Yoko:
Revamp: Version 1.2 features a few minor tweaks to the original design. My original plan was to update the sky from night to day, but I'm happy with the way this turned out. The background now features a crimson night sky, which I think adds a certain intensity to this badass duo ♥ I reanimated the starry sky and also switched to text links for the navigation.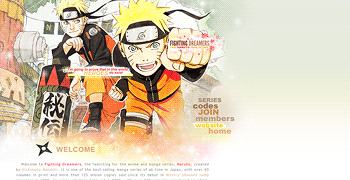 Naruto:
- Revamp: Version 2 Heroes features Shippuden!Naruto, looking very cool and handsome~ X3
- Donated Layouts: I finally got around to skinning the fanlisting so that I could add the two layouts graciously donated by the previous owners X3 There are now a total of four skins on the fanlisting :D
Naruto:
Buttons: Make 235 shiny new buttons for the fanlisting~ the most I ever made for a single fanlisting! ♪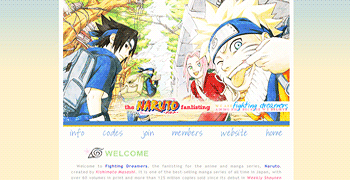 Naruto:
I adopted the fanlisting for Naruto, one of my most favorite anime/manga series ever ♥
- Design: Version 1 Comrades features my favorite Team 7 in happier days X3 I'm a bit short on time right now, so I hope to make my own codes and a better layout in the coming weeks.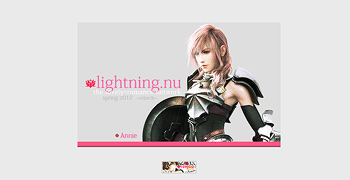 Lightning.nu:
I am very proud to present my shiny new domain, Lightning.nu, named after the fierce warrior goddess from Final Fantasy XIII/XIII-2 ♥ I'm hoping to get the domain up by spring, and it will serve as my new main domain, to replace cradle-robber.net. Over the last two weeks, I've been slowly moving in the network pages with Final Fantasy-themed revamps ♪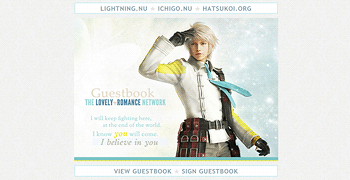 - Contact: Features my game OTP, the beautiful Squall & Rinoa from FFVIII, in a soft and romantic theme ♥
- Guestbook: Features my current love and Lightning's hubby, the handsome and mature Hope from FFXIII/XIII-2, in a dreamy theme ♥
- 404 Page: And in case you ever get lost, the dangerously sexy Noctis from FFXIII Versus will lead you on to the right path ♥
- Overture: Decided to keep the current Corda design.
- Linkage: Decided to keep the current Air design.
- Buttons: Made 12 new 88×31 link back buttons.
- Favicon: I customized the crystal rose originally made for the fanlisting :3
Ichigo.nu:
- Network: Move out the network pages and convert back to being a dedicated anime collective ♥
- Buttons: Made 8 new 88×31 link back buttons.
Hatsukoi.org:
- Favicon: It is now a cute pink heart to match the domain name :3