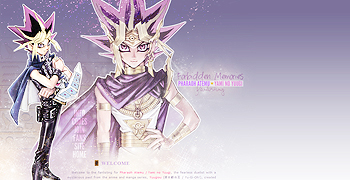 Yuugiou: Pharaoh Atemu / Yami no Yuugi:
– Design: Version 6 King of Games features both versions of Atemu – as the Duel Monsters champion and as the Pharaoh. The theme of this design is royalty so I went for cool and noble ♥
– Content: Cleaned up the text.
Finished tidying up the coding for the last 20 TAFL listings. Next up is the TFL listings~
Naruto:
– Updated introduction to reflect the news of the recent end of the series.
Vampire Knight:
– Pretty new code page.
Added a Sibling Sites section for the following sites:
– Mermaid Melody Pichi Pichi Pitch-related fanlistings
– Naruto-related fanlistings
– Shingeki no Kyojin-related fanlistings
– Tengen Toppa Gurren Lagann-related fanlistings
– Yuugiou-related fanlistings
Recently plugged my Anime fanlisting over at the TAFL boards, and gained a bunch of new affiliates all around at my collective and fanlistings, the bulk of it to my 6 anime series :D
Anime:
– Added new affiliates.
– Tweaked the Enth script so that the member's name links to their website on the members list, in order to get rid of a column. I wanted to use the extra space to display the two favorite fields better :3
Inuyasha Music:
– Switched affiliates over to another script.
– Affiliate check.
– Added new affiliates.
Affiliation check:
– Made a long overdue affiliate check at 27 TAFL fanlistings X_X
Yuugiou: Atemu:
– Recode the entire site.
– Rewrite introduction.
– Pretty new code page.
– Update the stylesheet.
– Add new affiliates.
Yuugiou fanlistings:
. Seto & Shizuka
. Atemu & Anzu
. Atemu
. Manjyome Jun
– Affiliate check.