Finished tidying up the coding for the last 20 TAFL listings. Next up is the TFL listings~
Naruto:
– Updated introduction to reflect the news of the recent end of the series.
Vampire Knight:
– Pretty new code page.
Added a Sibling Sites section for the following sites:
– Mermaid Melody Pichi Pichi Pitch-related fanlistings
– Naruto-related fanlistings
– Shingeki no Kyojin-related fanlistings
– Tengen Toppa Gurren Lagann-related fanlistings
– Yuugiou-related fanlistings
Once a year, I like to go through each fanlisting to update coding and minor content, but the last major one I did was at the beginning of 2012~ :X Yikes, so here we go! 11 down, 35 to go~
Merupuri: Aram & Airi:
– Pretty new code page.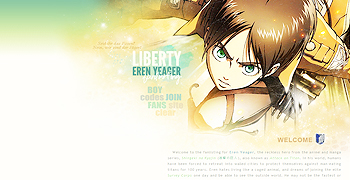 Eren Yeager:
My newest love is the reckless fighting boy from the anime/manga series, Shingeki no Kyojin, who will risk everything to save humanity ★
– Design: The layout is bright and earthy, and features our brave soldier ready to fight for our freedom ♥
– Buttons: Made 51 buttons.