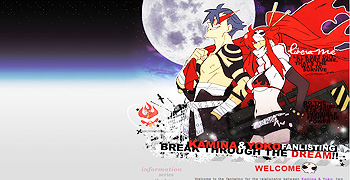 Kamina & Yoko:
Revamp: I love this particular image of the pair too much to let go, so instead of a brand new design, I have once again updated the sky for this design ♪ This time, the sky is blue/magenta~ my goal was to bring them to the heavens and have them conquer the galaxy together ♥
Once a year, I like to go through each fanlisting to update coding and minor content, but the last major one I did was at the beginning of 2012~ :X Yikes, so here we go! 11 down, 35 to go~
Merupuri: Aram & Airi:
– Pretty new code page.
Kamina & Yoko:
Revamp: Version 1.2 features a few minor tweaks to the original design. My original plan was to update the sky from night to day, but I'm happy with the way this turned out. The background now features a crimson night sky, which I think adds a certain intensity to this badass duo ♥ I reanimated the starry sky and also switched to text links for the navigation.
Recently plugged my Anime fanlisting over at the TAFL boards, and gained a bunch of new affiliates all around at my collective and fanlistings, the bulk of it to my 6 anime series :D
Anime:
– Added new affiliates.
– Tweaked the Enth script so that the member's name links to their website on the members list, in order to get rid of a column. I wanted to use the extra space to display the two favorite fields better :3
Inuyasha Music:
– Switched affiliates over to another script.
– Affiliate check.
– Added new affiliates.
Affiliation check:
– Made a long overdue affiliate check at 27 TAFL fanlistings X_X