Finished tidying up the coding for the last 20 TAFL listings. Next up is the TFL listings~
Naruto:
– Updated introduction to reflect the news of the recent end of the series.
Vampire Knight:
– Pretty new code page.
Added a Sibling Sites section for the following sites:
– Mermaid Melody Pichi Pichi Pitch-related fanlistings
– Naruto-related fanlistings
– Shingeki no Kyojin-related fanlistings
– Tengen Toppa Gurren Lagann-related fanlistings
– Yuugiou-related fanlistings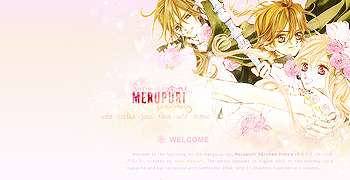 Merupuri:
I adopted the fanlisting for the manga series, Merupuri, created by Hino Matsuri ♥ It is a super cute story of discovering love in a fairytale romance ♥
– Design: The layout is sweet and romantic, with lots of hearts and flowers ♥
– Buttons: Made 125 buttons.