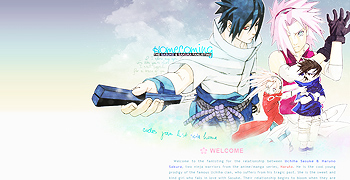 Naruto: Uchiha Sasuke & Haruno Sakura
One of my oldest OTP is Sasuke & Sakura from the anime/manga series, Naruto ♥ These two have always held a special place in my heart, and I'm so happy that the pairing is finally canon! ♥
– Design: The layout is dreamy yet fierce, blending the past and future ♪
– Buttons: Made 74 buttons.
Naruto series
Affiliate check.
Naruto: Akatsuki
Affiliate check.
While updating some links, I ended up doing a complete affiliate cleanup for my Final Fantasy-related fanlistings~
FFVII: Vincent Valentine:
– Affiliates: Affiliate check.
FFVIII: Squall & Rinoa:
– Affiliates: Affiliate check.
FFXIII: Lightning:
– Affiliates: Affiliate check.
Hatsukoi.org:
– Affiliates: Went through and removed dead links.
Network Exit:
– Coding: The affiliate links are now managed manually, so I made a pretty new affiliate section.
– Affiliates: Added one new link.
Affiliation:
– Continue to add new affiliates at many anime fanlistings.
– Affiliate check at 13 TFL fanlistings.
Morning Musume:
– Switched affiliates over to another script.
– Affiliate check.